Read Time:
4 Minute, 59 Second
108 total views, 1 views today
Minor League Monday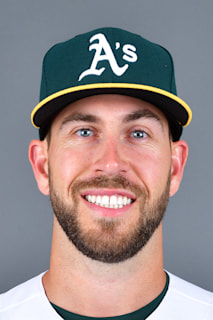 On December 3rd, 2021, the Oakland Athletics signed free agent, Drew Jackson, to a minor league contract. He was also one of the first players called up for Spring Training once the new CBA had been agreed to. Jackson is a very promising prospect in the middle infield and was one of the most highly sought-after minor leaguers in the offseason. To truly understand the value that Jackson brings the A's organization we need to look back at his career as a whole.
Originally drafted in the 37th round of the 2012 Amateur Draft by the San Francisco Giants, Drew Jackson decided to forgo the late round pick to attend Stanford University. After having a rough first two years with the Cardinals, Drew broke out in 2015 with a .320/.396/.388 slash and being named as an All-Pac-12 honorable mention. Following this breakout, he would be drafted by the Seattle Mariners in the 5th round of the 2015 Amateur Draft.
After being assigned to the Low-A Mariners affiliate, the Everett AquaSox, Jackson continued his breakout 2015. He would hit an insane .358/.432/.447 and steal 47 bases on 51 attempts (~92%). Also, considering his current rating on Fangraphs, he was probably playing decently at SS as well, one of the toughest positions to play defensively. Following this performance, he would not only be named an organization, post-season, and mid-season All-Star for the Northwest League, but would also win league MVP.
Following this MLB: The Show-like season, Drew Jackson was called up to High-A for the 2016 season. Unfortunately, Jackson would regress back to the mean a bit, hitting only a .258/.332/.345 slash and being used more conservatively on the basepaths, stealing only 16 bases on 24 attempts. Jackson wouldn't win any accolades for this season and would be traded to the Dodgers along with Aneurys Zabala (minor league bust) for Chase De Jong (fringe MLB starter) on March 1st, 2017.
Jackson would be assigned to the High-A affiliate of the Dodgers, the Rancho Cucamonga Quakes (what a name), and would hit solidly hitting a .254/.367/.429 slash before being called up to Double-A. Drew wouldn't hit nearly as well with a .234/.346/.324 slash for the Tulsa Drillers. However, despite his somewhat poor performance with the Drillers, Jackson would still be named an organization All-Star following the season.
Drew Jackson would be invited to Spring Training before the 2018 season and would start the year in Double-A. Drew would hit nearly as well in 2018 for the Drillers as he did in 2017 for the Quakes, hitting a .252/.356/.447 slash. He would also be named a Texas League and organization All-Star during the season, cementing himself as one of the top prospects to look out for. However, things would take a weird turn for Jackson following the 2018 season.
The Philadelphia Phillies would select Drew Jackson in the Rule 5 Draft and immediately trade him to the Baltimore Orioles for international draft bonus money. Being a Rule 5 Draft pick, Jackson had to stay on the active MLB roster for an entire season. However, after only playing him for 8 total innings in the outfield, the Orioles decided to designate Jackson for assignment and he would be picked up by the Dodgers once again, this time off of waivers.
Drew would play the rest of the season with the Oklahoma City Dodgers (Triple-A), and, unfortunately, disappoint majorly. Jackson would hit a .209/.300/.319 slash for Oklahoma City in 2019 and would not win any accolades for the season. It probably didn't help that this was his most injured season, with 3 separate stints on the 7-day IL, though that isn't really too significant in terms of time missed. This was also the first year that teams started to experiment with his fielding versatility, giving him significant time at SS, 2B, and CF.
Following a disappointing 2019 season, Jackson would practically sit out the entirety of 2020 due to COVID. On top of this, he would once again be taken in the Rule 5 Draft, this time in the minor league portion by the New York Mets. In 2021, at age 27, Drew Jackson would start to rehabilitate his top-prospect image with the Triple-A Syracuse Mets, hitting a .251/.397/.424 slash and stealing 24 bases in 27 attempts, his most since 2015. The Mets would also go further with his positional versatility, playing him at every position, except catcher, including 3 innings as a relief pitcher. Despite this great performance and being named an organizational All-Star, Jackson was let go in free agency.
As mentioned before, as one of the more sought-after minor league free agents, Drew Jackson signed with the Oakland Athletics and was one of the first players invited to Spring Training. So, what are the Athletics getting with Jackson? They are one of their favorite types of players: a utility fielder. Drew has been known to competently play multiple positions (except catcher and pitcher, competently), and has shown a consistent ability to get on base well above what his AVG would suggest.
While he is unlikely to be a power bat in the lineup, we could soon see Jackson used as a pinch runner late in games, as his speed has also remained consistent, and then stay at whatever position he subbed in for. While he might not make the biggest impact immediately, Drew Jackson could contribute to the A's much sooner than you might expect.
Statistical and Transaction data from MLB.com and Baseball Reference
Subscribe to access a week early and other exclusive contact on the Ultimate Sports Network
Use the Promo Code: F45DF5FMDA
For 10% off of merchandise on and 20% off of subscription to the Ultimate Sports Network