Oakland Athletics Weekly Wrap Up
Read Time:
9 Minute, 59 Second
137 total views, 1 views today
Spring Training Week 1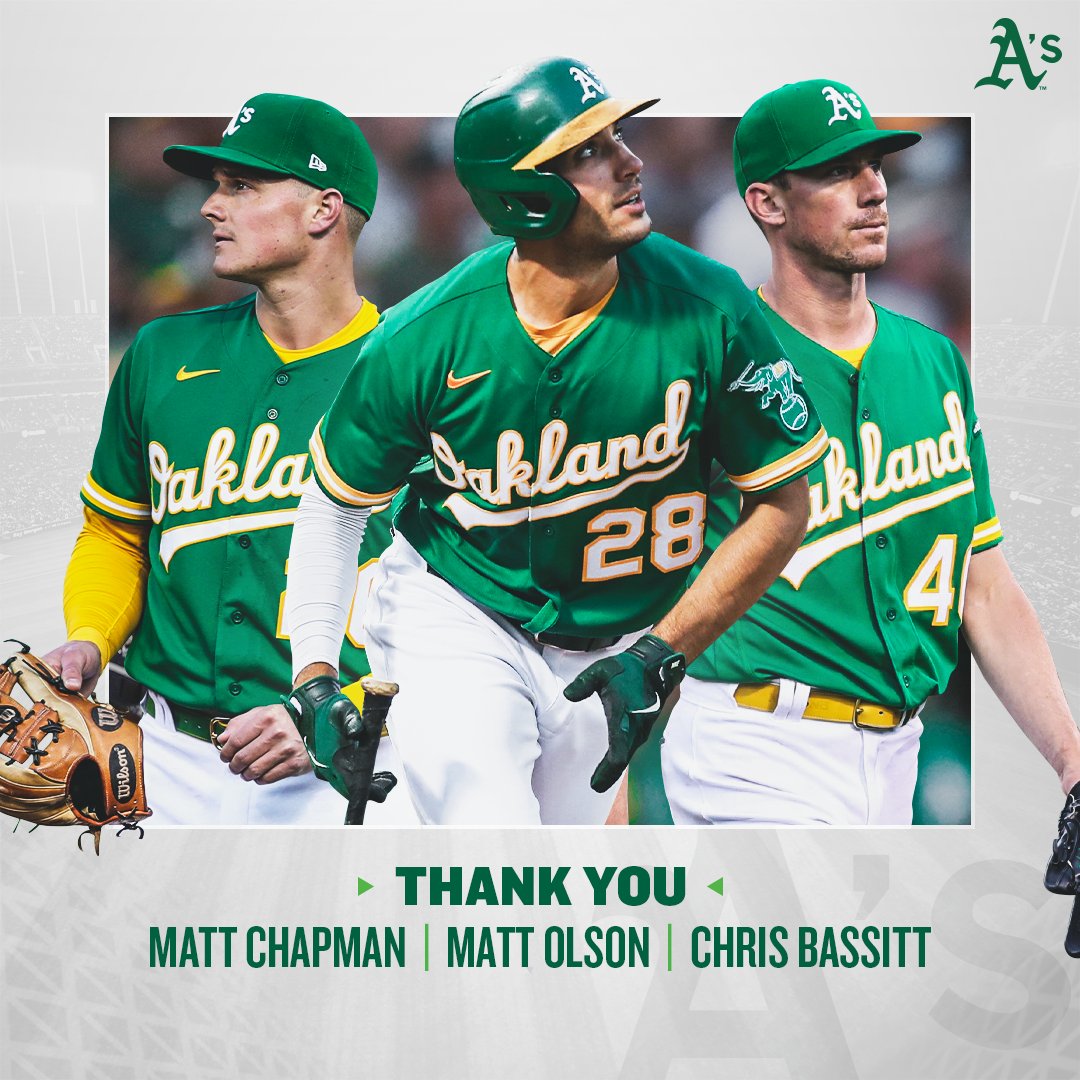 Everyone knew that as soon as the CBA was finalized between the MLBPA and the owners that there would be a flood of transactions before the regular season began. What people might not have been expecting was how quickly the A's would sell off some of their top players for prospects. Although last season showed that the Athletics still had a bit to go before they would be a playoff team, many people might have expected a typical A's push for the playoffs until the trade deadline, where they would buy or sell depending on the situation (though they probably would have sold).
Instead, probably due to the shortened period to go after free agents before the season began, the Athletics decided to sell before the season even began and see what they got in their minor leaguers during Spring Training. With all of the recent transactions done by the A's organization in the past week, it is important to see how they stack up with each other and potential trades in the future.
Chris Bassitt for J.T. Ginn and Adam Oller
Chris Bassitt isn't unfamiliar with being traded, originally being drafted by the White Sox and packaged in the Marcus Semien trade, but the 7-year Oakland veteran definitely established himself during his time with the Athletics. Bassitt pitched very well for the A's organization, having a consistent below 4.00 ERA and FIP as a starter. He would end up finishing top-10 in AL Cy Young voting the past seasons and would make the All-Star team in 2021. While Bassitt is somewhat older for a pitcher at 32, he seemed to have consistent improvement over his time in Oakland and will very much be missed.
J.T. Ginn was drafted by the New York Mets in the 2nd round of the 2020 Amateur Draft. Although he only played one game in 2020 before being drafted and sitting out the rest of the year due to COVID, he played very well in Single-A in 2021. As a starter for the St. Lucie Mets, Ginn had a 2.56 ERA with an 8.1 K/9 and 6.1 H/9. Following this good start, he was called up to High-A, where his ERA and H/9 would unfortunately increase to 3.38 and 8.3 respectively with the rest of his stats remaining similar. Being a 2nd round pick, Ginn has a lot of potential and could very easily become a pitcher in the rotation at the MLB level.
Adam Oller is a 27-year-old right-handed starting pitcher that has bounced around the minors a bit. Originally a 20th round pick in the 2016 Amateur Draft by the Pirates, Oller would struggle during his time in the organization and be released in 2018. After bouncing around various leagues for the next 2 years, Adam would sign with the Mets organization and have a breakout 2021. He would have a ERA of 4.03 and FIP of 3.61 in Double-A before being called up to Triple-A and dominating with a 2.45 ERA and 3.34 FIP. An overall pretty average starter, Oller could provide good depth for the starting rotation and see MLB playing time, after being named to 40-man roster, with injuries or more trades.
Matt Olson for Ryan Cusick, Joey Estes, Shea Langeliers, and Cristian Pache
This trade was when people really started to see that the A's were rebuilding in 2022. Olson has been a consistent starter at 1B for the Oakland Athletics since the 2018 season. A power bat with a good eye, Matt Olson was the best player on the A's roster last season, hitting 39 HRs, making the All-Star team, and getting 8th in MVP voting. Although not winning the Gold Glove in 2021 or 2020, Olson has shown his ability to flash the leather, winning the award in the two prior seasons (2019 and 2018). Seeing an MVP candidate leave your team is always tough, especially when they are homegrown, but it at least seems that the haul for Matt was pretty good.
While not the headline of the trade, Cristian Pache might be one of the more recognizable names. An International Amateur Free Agent signing out of the Dominican Republic, Pache played the majority of his time in CF while making his way up the minors. His bat has unfortunately not been very impressive, being slightly better than another former Braves prospect Christian Bethancourt, his fielding is his true talent. Rated unanimously as an 80/80 across scouting reports, Pache's fielding ability is among the elite of the elite and is one of the reasons why we currently see Ronald Acuna Jr. in the corner outfield.
With Pache not taking the role as the headliner, that leaves the spot up for catcher Shea Langeliers, the 9th overall pick in 2019 Amateur Draft out of Baylor University. While struggling in his first real taste of professional baseball in 2019 and missing all of 2020, Langeliers would demonstrate his top-10 potential in 2021, hitting a .258/.338/.499 slash in Double-A while being called up for a cup of coffee in Triple-A. This is a pretty good sign when you consider that his fielding ability is his top tool, being rated currently at a 50 on Fangraphs and ranging above 60 from other sources.
The other two prospects are a bit more of a wildcard then Pache or Langeliers. Joey Estes is a former 16th round draft selection out of High School that has wowed with his 2021 Single-A season. Having a 11.5 K/9 is incredibly good, especially for starting pitcher. One of his more notable accomplishments is striking out 14 batters on August 14th.
Ryan Cusick on the other hand has a lot less to go off of, pitching only 16.1 innings and 6 starts after being drafted in the 1st round of the 2021 Amateur Draft. Those 16.1 innings, however, also coincided with 34 Ks, giving Cusick an insane 18.7 K/9. Considering he was hitting above a 13.0 K/9 in his last two seasons with Wake Forrest, Cusick has a lot of potential to be a steal in this blockbuster trade.
Matt Chapman for Gunnar Hoglund, Zach Logue, Kevin Smith, and Kirby Snead
This is probably the trade that hurts the most for the A's faithful. While the Oakland Athletics definitely sold high on Bassitt and Olson, many speculate that the Chapman trade was an unfortunate sell-low deal. Chapman has spent his entire career with the A's organization after being drafted by them in the 1st round of the 2014 Amateur Draft. After making his way to the big leagues in 2017, Chapman almost immediately established himself as a premier defender at the hot corner, winning Gold Gloves in 2018, 2019, and 2021 and Platinum Gloves in 2018 and 2019.
On top of his elite fielding ability, Chapman's bat helped to lead him to a 7th and 6th place finish in MVP voting in 2018 and 2019 respectively. However, after a poor hitting season for him in 2021, with a slash of .210/.314/.403, many are wondering if the A's sold-low on the former MVP candidate instead of waiting for his bat to potentially recover in 2022 and making a deal at the deadline.
In exchange for Matt Chapman the Athletics got 4 prospects from the Blue Jays organization. The headliner, and the reason that many think the Athletics sold low, is Gunnar Hoglund, the 19th overall selection in the 2021 Amateur Draft. With many prospects there is not much to say, as they haven't played in the majors, but with Hoglund there is nothing to say, as he had Tommy John surgery before his Junior season at Ole Miss ended. While a lot of promise as a starter at Ole Miss and some promise as a two-way player from his 2019 Florida Collegiate Summer League stint, it is very difficult to say how well Gunnar will recover from Tommy John and perform as a professional.
The next main pickup in the deal was Zach Logue. Logue spent all of his professional career with the Blue Jays organization after being selected in the 9th round of the 2017 Amateur Draft. Logue seems to be a very similar pitcher to the previously mentioned Adam Oller, though Logue had a more consistent progression to Triple-A success. After throwing a 3.32 ERA and 9.4 K/9 in Triple-A in 2021, we could see Zach make the majors soon as a depth option, especially with his current Spring Training invite.
The next two players are more MLB ready than the previous two prospects. Kevin Smith is another player who spent his entire career in the Blue Jays system and has shown his ability as a solid utility infielder. Unfortunately, his bat has been very inconsistent over the years, but has shown a lot of promise after hitting a .285/.370/.561 slash in Triple-A. Overall, it seems like the A's are banking on his bat stay more in line with his 2021 form and him being a decent replacement for Chapman at the hot corner.
Kirby Snead does not seem like a very exciting addition to the deal, instead just being added for relief pitching depth. Another career-long Blue Jays system pitcher, Snead started his career as a reliever and has remained a pretty consistent arm ever since he was drafted in 2016. After throwing an impressive 1.79 ERA in Single-A in 2017, Snead would be consistently called up and spend about a year getting used to the new level of baseball that he was at. In 2021, Snead would pitch a 1.58 ERA and 12.8 K/0 in Triple-A before being called up to the majors and throwing a 2.35 ERA in only 7.2 innings of work. Kirby could be a potential steal for the team in relief and possible pump-and-dump reliever for the future.
Overall, the A's have not gotten off to the best start for the 2022 season on the field and have seen even more chaos occur off the field. After agreeing to a new stadium plan to keep the team in Oakland, the A's have run into a roadblock come from the Seaport Planning Advisory Committee rejecting the removal of the proposed site, Howard Terminal, as a Port Priority Use Area. If the SF Bay Conservation and Development Commission follows the recommendation of their advisory committee, then the new stadium deal could go completely up in flames.
On top of this, after a town hall on the proposed $12 billion plan to redevelop Howard Terminal, many locals expressed their lack of support for the project, leading to talks of a potential referendum of the plan. Needless to say, with the lack of support shown, this is not a very good sign for keeping the A's in Oakland.
This, on top of the increasing season ticket prices, decreased attendance/game numbers in 2021, and the possible continued effects of COVID-19, also bring a bit of concern as to how much the A's management want to keep them in Oakland. Overall, the Oakland Athletics are looking at a rough start and a possibly even rougher year in 2022.
All statistics and transaction data from Baseball Reference
Subscribe to access Minor League Monday and Free Agent Friday a week early and other exclusive contact on the Ultimate Sports Network
Use the Promo Code: F45DF5FMDA
For 10% off of merchandise on and 20% off of subscription to the Ultimate Sports Network